My very first car was a 1973 Volvo 145E. For a 19-year old guy, it was pretty far from sporty.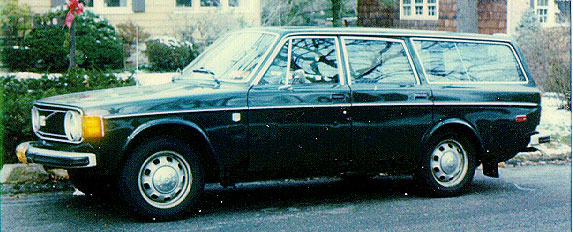 At the time, I'd really wanted something more like a 1976 Mercury Capri. But, the unusual situation of having 2 best friends who both owned a Volvo 145, it was hard to resist becoming a "VOLVO Brother." Anyway, it was a tremendously practical car for my college days, but it was under powered and got terrible gas mileage. And it wasn't nearly as reliable as Toyota and Honda cars at that time. It was eventually sold off and I moved on. Still, I never forgot it. In my mind, it blew away any other station wagons of the day with its modern looking dashboard and instrumentation, handsome stature, plus superb safety features compared to its dated American counterparts and tinny cheap looking Japanese competitors.
Along the way, I picked up a very nice looking Rob Eddie (Brooklin brand) diecast car model. They'd just happened to choose the 1973 145 model and in a color that was actually what I'd originally wished to have on my old Volvo. I've had this model for over 10 years. But one day, as fate would have it, I'd left it out on display and an object struck it, chipping the paint and denting the metal.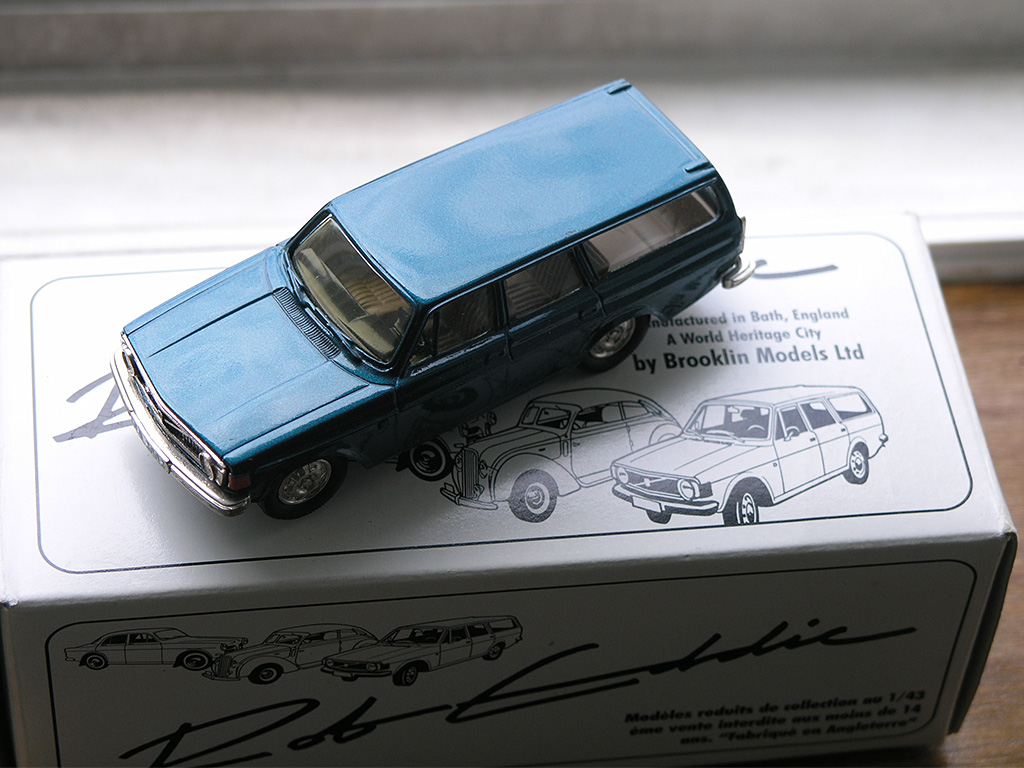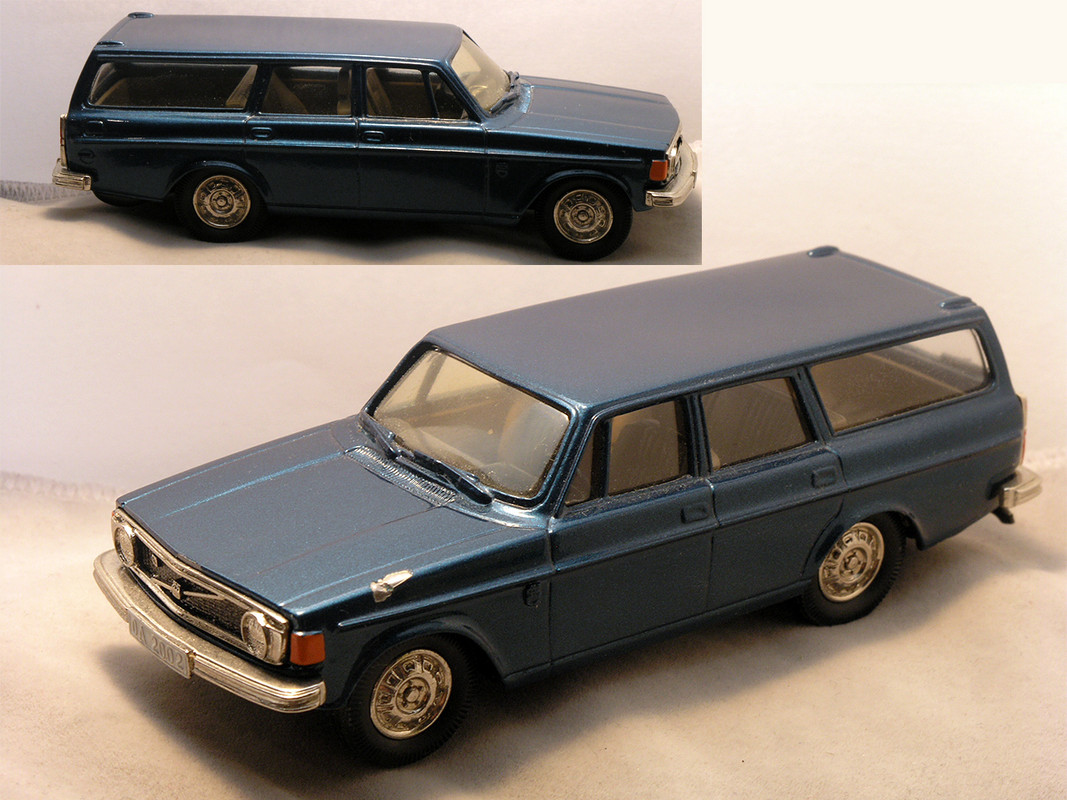 As you can see, a rather glaring bit of damage. The paint looks to be some kind of medium blue-green metallic color. So I contacted Brooklin models and asked about the paint. Supposedly they selected an authentic original paint color that was used by Volvo. They didn't have any more of it and all they could tell me is this name and code: Volvo Mellanbla Blue, manufacture code 406, ICI code 2175B.
When I looked this up, I did find 406 but it applies to many different models and isn't described as metallic... while I've spotted other paint codes that use the word "metallic." It's definitely a metallic paint. Here's a better shot of it: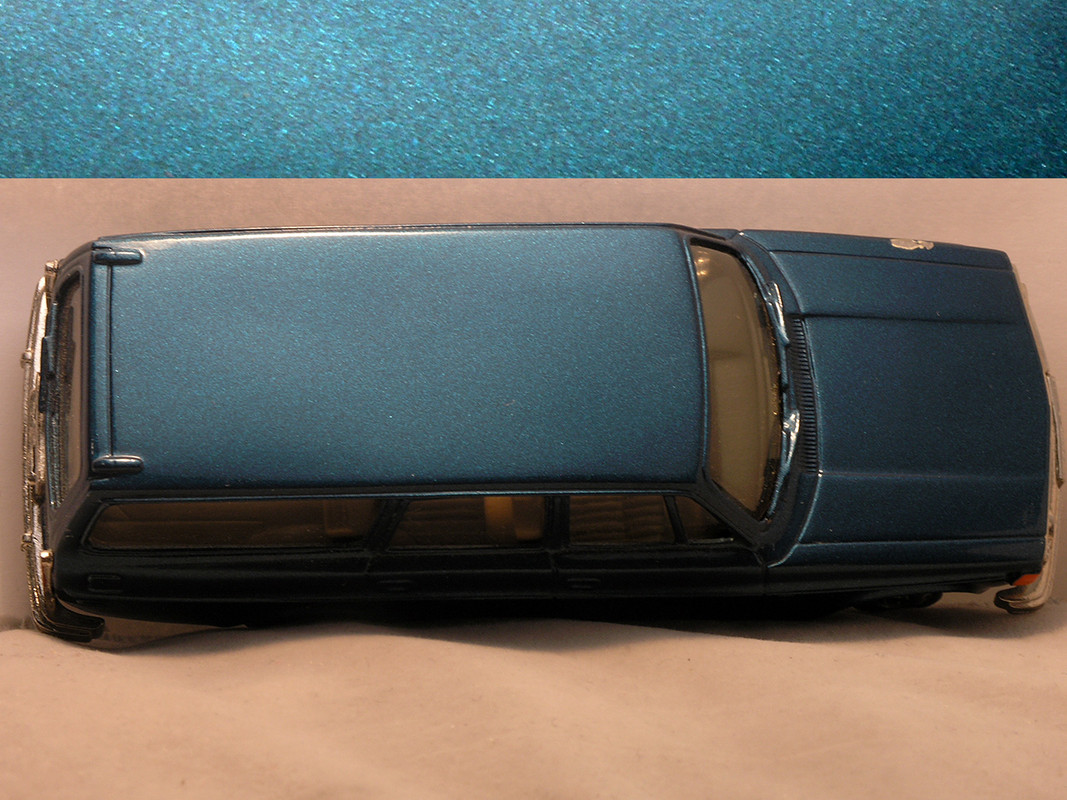 From first glance you'd say BLUE, but when compared to anything else that is about a medium blue, it becomes BLUE-GREEN.
On one automotive paint site, for
1973
there was no 406, but the closest match is code 99. But that's just noted as medium blue. However, code 406 turns up under
1992
, and they've got code 406 noted as blue metallic.
So my presumption is that perhaps Rob Eddie (Brooklin) chose a later model paint on their 1973 Volvo 145 model, and that 406 is likely the correct paint.
Any thoughts on how I should go on this, or perhaps a more accurate paint source? Please note I'm in the USA and would like to avoid a hefty shipping charge as is typical from the Europe. Thanks!