I found a cigarette lighter in the junkyard. I didn't have one yet in the boot.
Drilled the hole with one of these:
It is already outlined in the plastic side part of the boot. Fitted the socket, actually found the wiring lying on the bottom somewhere
, checked the fuse (it was already mounted) and followed the wiring after the fuse (went into the wiring loom 4 inches and then looped back out) to find a blade connector (that shorts 5 contacts together) missing. Once I got that from the breakers, it now works!
The part mentioned last ('blade connector') is seen here on the pic casting the shadows: it links certain contacts on the (front or rear) CEM computer with outside contacts and relays.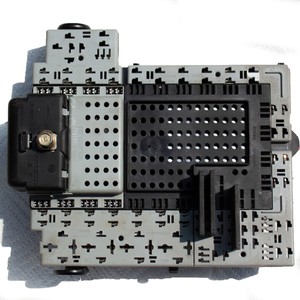 But the question: how do I get the message warning me that something is plugged in? Supposedly that is shown in the dashboard as a warning when something is drawing current, but mine doesn't do this.

Is this just checking a box in VIDA somewhere?